Company is a scientific research, design, production, manufacturing, sales and service in one of the audio and video technology enterprises
Categories:

Company News

Author:

Origin:

Time of issue:

2020-03-18

Views:

0
(Summary description)DJ headphones, recording microphones and its ancillary products. We have a high-quality management team, including more than 10 engineering and technical personnel
Company is a scientific research, design, production, manufacturing, sales and service in one of the audio and video technology enterprises
(Summary description)DJ headphones, recording microphones and its ancillary products. We have a high-quality management team, including more than 10 engineering and technical personnel
Categories:

Company News

Author:

Origin:

Time of issue:

2020-03-18

Views:

0
DESOUND Electronics Co., Ltd. was established in 2016 and is known as the Jiangnan Water Village on the southeast coast of China. Its annual cargo throughput ranks first in the world. It is a multi-functional, comprehensive and modern deep-water port city integrating river ports and sea ports. — Ningbo, China.
Company is a scientific research, design, production, manufacturing, sales and service in one of the audio and video technology enterprises, focusing on professional monitoring headphones, DJ headphones, recording microphones and its ancillary products. We have a high-quality management team, including more than 10 engineering and technical personnel. There are 2 senior electroacoustic engineers, engaged in electro-acoustic audio products industry more than 20 years of work experience. The company's production workshop for dust-free workshop and modern production lines. In order to ensure product consistency, the company has a number of advanced production and manufacturing equipment and assembly tools, with a number of sets of electroacoustic tester, audio signal generator, phase tester, high-performance magnetic detector and other equipment.
Since its inception, the company has always adhered to the "quality first, people-oriented, mutual benefit, customer satisfaction" for the purpose. In order to strengthen enterprise management, we strictly grasp the quality control and management system construction. In order to achieve enterprise informatization, management process, data accuracy, work efficiency, we have introduced the most advanced and efficient ERP management system Goldie KIS software. Company products have passed the EU CE certification in 2017. DESOUND successfully passed the social standards BIC Affirming our efforts and contributions in social responsibility in 2018. We have successfully obtained a design patent for a number of product applications in 2019, effectively protecting the legitimacy and continuity of our proprietary products.
"Excellence, innovation, quality first, reputation first" is the purpose of our development, we have been to meet customer needs as our highest goal and development direction. Warmly welcome customers at home and abroad to visit our company and guide the work. We can provide you with product OEM, ODM customized services. All staff will be full of enthusiasm, superb technology, professional heart, first-class service to provide you with our most quality products, so that you can get the most beautiful sound!
Scan the QR code to read on your phone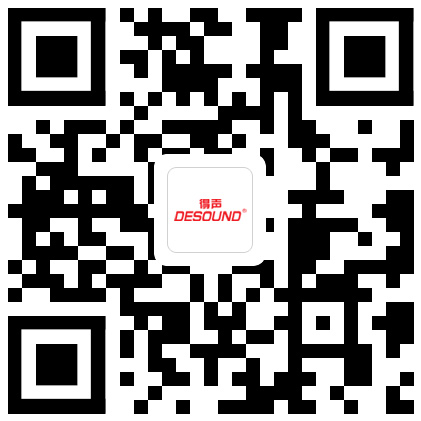 More exciting waiting for you!